What do you do …

when a tiny kitten shows up on your garden deck and peeks from behind the oregano?

when more little kittens arrive?

when you have extreme cat allergies?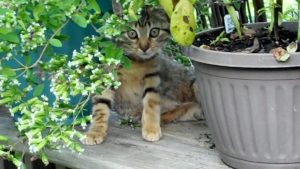 You sprinkle some cat magic all over yourself, click your flip-flops three times and take them all in. You feed them. You keep them warm. You love them. And … you mysteriously lose your lifelong cat allergy.
Best of all, you are gifted with the experience of little hearts who generously and with unquestioning faith give everything they possess to you. No questions asked.
And so my journey with eleven cats (oops – now 13) leads me to share the researcher in me as I become a student of cats and emerge as a 'closet' cat empath – using radio as the medium to help other cat 'advocats' become the best caretakers they can be.
So join me and put your cat glasses on to view a cat's world through their eyes.
Pat Rullo
Whodini shares Pat's bio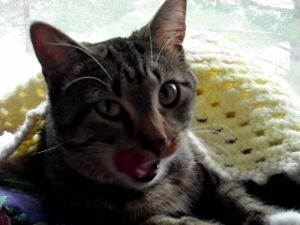 When she's not raking litter boxes into mindful and zen-like circles, Pat interviews guests for her radio networks, speaks at live events, studies, researches, produces her radio programs and hangs out with me. I think I'm her favorite. Unless it's Tiny who is deaf. Or maybe Stripe since she was the first one. No – I think it's me.
My real mother dropped me and my four siblings off at Pat's back deck. I tried to run around with my brothers and sisters but couldn't keep up. I couldn't breathe. So most of the time I sat hunched in a ball, just passing time. You see, during my first eleven months I was very sick and quite underweight thanks to a massive polyp that ran from my ears and down the back of my throat. Luckily Pat saw my struggles and hand fed me at least ten times a day out of a spoon as we sat together on the kitchen floor, took me to four veterinarians, syringe fed me vitamins and helped me to survive a childhood I never would have on my own.
So now I follow her everywhere – yes – even into the bathroom. I sleep with her at night under my very own afghan, wake her up with my scratchy meow and then hang out with her all day long. Even though I can't speak, she knows what I want. I think I taught her some cat language which I'm sure she'll share on some upcoming radio shows. I kind of run the show around here and I've heard Bob say that I'm spoiled. Imagine that?
And now – here's the usual human bio that some humans like to read.
Patricia J. Rullo is the author of the book – Speak Up and Stay Alive, a patient advocate hospital survival guide. She speaks nationally on the subject of patient safety. As the hostess and producer of her national radio shows, she stresses the need to have an advocate at all times and shares the dangers – what they are, why and how they happen, and how to survive them.
Prior to becoming the voice for patient safety – Pat was known as a speaker and coach in the insurance industry and has served on the advisory boards of New York Life Insurance Company and Transamerica Life Insurance Company. She is recognized through Consulting Psychologists Press as a certified administrator and interpreter of the Myers-Briggs Type Indicator, an assessment instrument that provides in-depth insights into personality type and behavior. She is the author of numerous business magazine articles as well as the books – Worksite Marketing, a promise to deliver and Succeed With Style, and is the founder of the charity THE SEWPORT PROJECT where handmade pillowcases are personally delivered to homeless veteran shelters, women and children's domestic abuse shelters, and also cage comforters to animal rescue homes.
She also founded two Internet radio networks – THOSE RADIO KIDS and THE SPEAK UP TALK RADIO NETWORK. THOSE RADIO KIDS is an Internet based radio network that makes the microphone available to youth all over the world with a special reach to those who are experiencing health and medical problems, are disabled, homeless, or have other life altering problems with the goal of – lending a hand.
THE SPEAK UP TALK RADIO NETWORK is a talk radio community that encourages people to speak up about topics that fuel their passion with the goal to empower listeners to do the same. Podcasters use the Network to re-purpose their existing shows as a way to reach a larger audience. And over 145 guest authors share their books via one-on-one interviews to promote their work.
ELEVEN CATS RADIO is the newest radio project and most likely is not the last one.